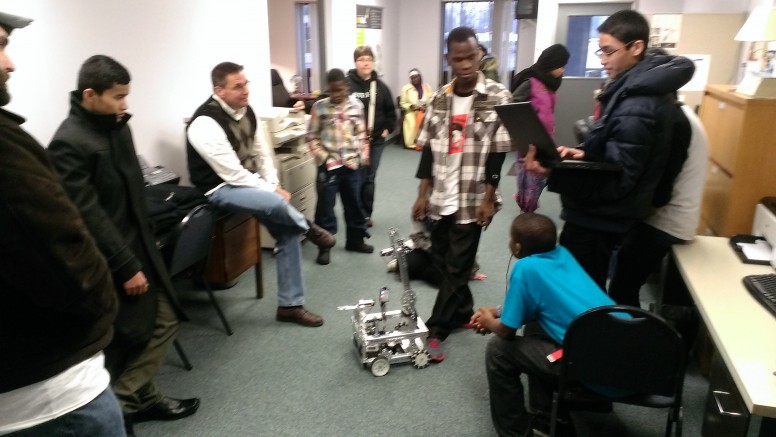 The Robotics Team, comprised of Utica City School district students, shows us their robot!
On 12/21/13, the Robotics team from the STEP program at Mohawk Valley Community College came to visit McVac to take a tour of our facility.  The students had a wealth of knowledge about engineering and robotics.  They put that knowledge to use by utilizing a CAD program on their computer to design and ultimately build their very own robot.  After displaying their robot at the MOST (Museum of Science and Technology), the group came to McVac, and we were lucky enough to see their robot in action.  It was quite impressive to see a group of students at this age so interested in engineering and robotics, and it was easy to see that these students have a very bright future ahead of them.  Before showing us their robot, we gave the students a tour of McVac.  We showed them how we use CAD in a very similar fashion to design our products, and then we showed them the finished product.  We hope that seeing a product go from start to finish in a setting outside of school provided the students with a glimpse of what the future may hold for them when it comes to finding a career.  To see more pictures from their visit, take a look at the album on our facebook page.  Good luck to the entire robotics team, and we hope you had fun and learned a little bit during your time with us!
Call Us Today or Contact Us Online for more information.